Birthday Cards Lead to More Than Well Wishes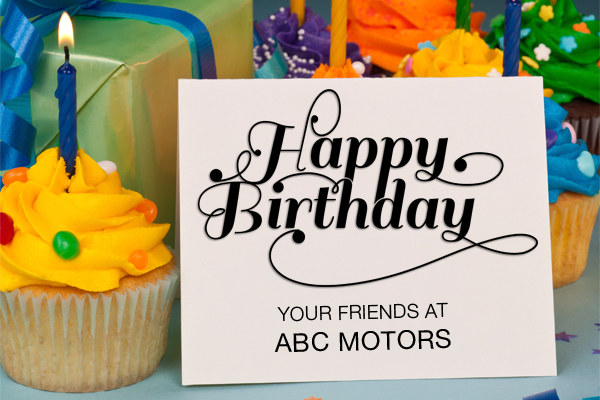 Article Highlights:
---
Birthday cards are an easy first step to future opportunities.
Sending birthday cards can have major benefits for sales and service.
A simple birthday card can make a difference. Yet in my experience, most dealerships don't send birthday cards to customers on a regular basis. Those dealerships are missing out on a golden opportunity. Sending a simple birthday card requires just a small investment of time and money, but yields tremendous results in the long run:
Better Customer Retention
Regular well wishes on your customers' birthday will keep you top of mind. Be sure to send cards to both sales and service customers. Maybe you have a customer who has only serviced with you but never purchased a vehicle. A birthday card not only reminds the customer where to return for service, but it may also encourage the customer to purchase from you when she is ready for a new car.
Expert Tip: Include a special coupon. You may get a customer back into your store that was never planning to return.
Referrals
Even if the birthday person isn't in the market for a new vehicle or ready for service, she likely has a friend or family member in need. The birthday card you send can serve as the spark that begins the referral process.
Better Customer Relationship
Sending a birthday card is a great way to improve customer relationships at your dealership. If you send a card annually, customers begin to expect it each year. Now, they feel like more than just a number; they feel like they're part of your dealership's inner circle.
If you decide to send birthday cards at your dealership, these tips will assist you with implementing the practice:
Collect birthday information in your CRM tool for every customer. Whether you're gathering information during the meet and greet or scanning a license before a demo drive, this is the most important step.
Personalize each card with the customer's first name, and don't forget spelling matters! Be sure all cards have a hand written signature, too. You want the customer to know you took the time to make the card personal.
Send cards weekly by adding this activity to your calendar and setting reminders. If you've been gathering this information for every customer, you should have plenty of cards to send out.
Taking care of the small stuff goes a long way. The way I look at it, sending a birthday card is an easy first step to open the door for future opportunities. If you really want to go the extra mile, follow up with a phone call. A call made a few days after sending the card gives you something that is beyond essential when calling a customer: purpose.
For more information on training and dealership improvement, contact Reynolds Consulting Services at 888.204.6092 or send us an email, consulting@reyrey.com.
Related Articles: