Tips to Exceed Expectations in Service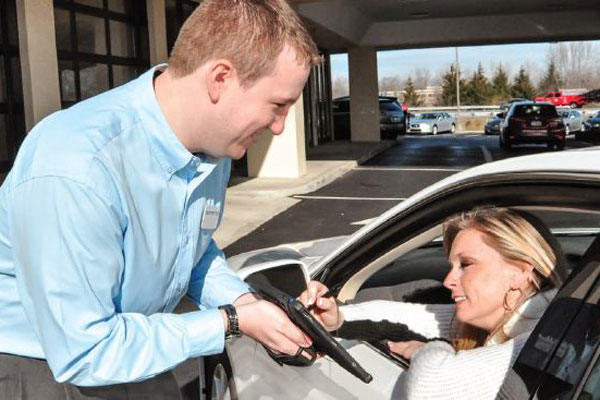 Article Highlights:
---
3 tips for exceeding your customer's expectations on the service drive.
"It's the little things that make a big difference."
Picture this: You arrive at a hotel after a long day of travel.  It's well past midnight and you find yourself alone in a quiet lobby, patiently waiting for the desk manager to check you in.
When the desk manager finally shows up, she barely makes eye contact while placing the usual forms in front of you and handing over the room key.  You leave the desk feeling less of a guest and more like a number. Needless to say, you're eager to get in your room and put your luggage down.
Unfortunately, when you finally get to your room, the television doesn't work, the bathroom is out of towels, the air conditioner is temperamental, and you can hardly hear yourself think over the noise coming from the road outside.
This probably doesn't sound like a place you'd want to stay, and you certainly wouldn't leave a positive review.
At best, this hotel sounds like a place offering travelers the bare minimum: a place to sleep at night. For some travelers, this hotel might be satisfactory. But for the majority, today's consumers are increasingly expecting a better experience for every purchase they make, whether it's goods or a service.
Similar to the hospitality industry, your service department has the opportunity to go beyond 'satisfactory' and provide customers with an outstanding experience.
If you want to be outstanding when it comes to your service department, ask yourself:
Am I giving more than just the invoice each time customers come for service?
Are the appointment and payment processes hassle free?
Am I ensuring cleanliness?
If you answered "no" to one or more of the above questions, these tips will enhance the quality of care your service department provides.
Give a Full Inspection:
Don't just make the repair and move to the next RO. The advisor and the tech should walk around each vehicle before and after the repair or maintenance is complete. This allows you to spot additional areas that need attention.
Be sure to invite customers to participate in the walk around with you, personally pointing out any potential problems.  Provide estimates and offer several choices.  If possible, offer same day repairs, whether it's a body or mechanical repair.
I recently spoke to the head of a major automotive group. His dealerships are doing something completely different that has improved their customer service.  When no additional maintenance is needed on the vehicle, the service advisors will make sure the customer is aware his vehicle is in top condition. This instills trust in the dealership and lets customers know the dealership cares about them, not just their wallet.
Provide Friendly Service:
Always return the vehicle with a smile, eye contact, a handshake, and a "thank you" before handing over the keys. Walk the customer to his vehicle, allowing him to take a final look at his car before he leaves and personally thank him for his business. Under no circumstances should you simply hand over the keys and point in the car's direction.
Make the Process Convenient With Automation:
Consumers want a buying experience that fits their schedule. Two places this is possible in your service department are the appointment process and the payment process. Automate the appointment process by allowing customers to set appointments online. Another option is providing text alerts when a job is done or if there are any updates during the repair process.
The icing on the cake for many consumers is an online payment process. Almost every shopping experience your consumer has today allows him to pay online. This can also meet the needs of those consumers who can't always be at the dealership during service hours.  The goal is to make the process as convenient as possible for customers so they choose your dealership over the competition.
Leave Vehicles Cleaner Than They Arrived:
If your techs aren't using protective covers or coated paper over floor mats, this process needs to happen ASAP.  After you finish an RO, make it part of your process to give each vehicle a wash and vacuum.
As simple as they sound, these measures will not go unnoticed. In my experience, it's the little things that make a big difference.
When you incorporate the above best practices, it gives your service department a leg up against the dealership across the street or even the quick-in, quick-out shop on the corner. Just like a nationally renowned hotel chain, your service department needs to continuously give extra effort to ensure outstanding care.
Related Articles: