3 Tips to Improve Knowledge at your Dealership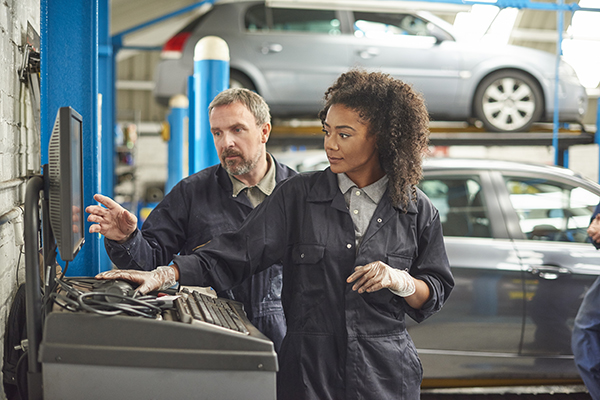 Article Highlights:
---
Promoting training to employees is easier than you think.
Training your employees helps them operate more efficiently.
This article was written by Kim Miller, a Software Education Instructor.
As a software instructor of over ten years, I've noticed some consistencies when working with dealership management. The first is they are a very determined group of people. Managers across dealership departments typically want nothing more than to be the absolute best at what they do. The second is their desire to be great can cause frustration along the way.
Through the years I've heard, "It would be great if the system did [insert specific thing]," many times. I'm happy to say, my answer is often, "It does, let me show you." This is quickly followed by, "I wish I had known that months ago." Often times, the thing they wish they knew is something that could have already been making or saving the dealership a good amount of money.
Technology has become so robust over the last 20 years that it can feel impossible to learn what a DMS or CRM, for example, can do. Not to mention, there are continuous improvements and new features rolling out all the time.
The good news is, you have resources available to help you and your staff know more about what your system can do. These three tips can help your management team and your employees be at that level of greatness they strive for.
1. Prioritize Management Training
The best place to start with training is with your management team – your fixed ops director, your GSM, your F&I director. These are the folks who best know how things work in their department and where their teams can improve. Setting them up to be successful in their roles means you're making sure they stay aware of the newest system features to help them keep their teams up to speed and efficient.
Within your DMS, users can access field-specific help by pressing the F1 key from inside any field. This displays the Smart Centre, which not only contains information about the field the user is in, but also provides videos, manuals, and additional resources.
2. Accountability and Encouragement
The next tip for helping your team reach their full potential is to hold them accountable and encourage them. Not just in their actual job duties, but also in their efforts toward gaining and seeking out more knowledge. Encourage your team to attend training and use the system resources available to them to learn more. Create a structured training plan so expectations and priorities are clear from the beginning.
Once they attend training, ask them to share that knowledge with their team so others can learn. If you can be there too, it will help show the importance even more.
3. Show You Are Invested
The best way to encourage your employees to want to learn more is for you to want to know more as well. Here are a couple of ways you can lead by example:
Share training suggestions with them.
Attend training with them.
Attend department meetings and encourage them to share things they've learned in training sessions.
Praise the areas that show improvement after training.
When your team sees you have a focus on expanding their knowledge and you're committed to your system, they're likely to jump on that train with you.
To put it simply, knowledge is power, and in the dealership world, knowledge is also efficiency. As your software systems grow and improve, help ensure your team does the same.
In addition to the in-system resources, Reynolds also has an entire department dedicated to training. Software Education (SED) provides both free webinars and paid 'Net Class training.
Finally, SED recently rolled out the Platinum Training Plan where members pay a monthly fee and can attend as many regularly scheduled 'Net Class sessions as they like. If just two dealership employees attend training each month, the membership has paid for itself. This is a great way to encourage continued training.
Related Articles: