Mobility Means Money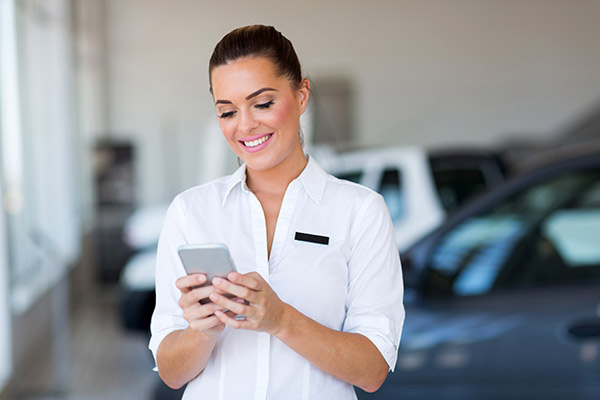 Article Highlights:
---
How a mobile experience speeds up processes.
Texting customers helps collect payments faster.
How do you typically contact customers about their service invoice? How do you accept payments on that invoice?
We've found that service advisors and cashiers can unintentionally hold up the process – whether from transposition errors or being attached to a PC to contact customers – and cause a delay in closing ROs, and in turn, collecting money.
Dealerships are a fast-paced environment with information constantly flowing through every department. From follow-up tasks, inventory management, bank reconciliation, and paperwork, there's an endless amount of work to be done. Sometimes, it can be hard to concentrate on the customer in front of you while managing the communication with customers waiting on their vehicle or parts order.
There's a solution to this problem: mobility.
Cell phones are likely the first thing to come to mind when you think about mobility. Everyone has one in their hand or pocket, even while at work. Taking advantage of this "bad habit" can allow service advisors to complete daily tasks on-the-go, such as contacting customers about their vehicle status or invoice. In turn, they can focus on in-person customers, strengthening the relationship they have with your store.
Mobility has a domino effect on the rest of your dealership:
Collect payments faster. Just like your employees, customers have their cell phones on them at all times, and a lot of their activity includes texting. In fact, a text is typically read within the first three minutes of receiving it.1 If the final invoicing text included a direct payment link, allowing the customer to pay online, how much faster do you think you would collect the payment? This convenience helps speed up the process.
Close ROs easier. The faster you collect a payment, the faster you can close an RO. You no longer need to wait until the end of the day; you can close ROs as online payments arrive.
Complete the 5 o'clock rush faster. With fewer ROs to close and accept payments on, end of day responsibilities are less of a headache for cashiers. Invoice totals prepopulate, so they won't have to worry about manual data entry. Cashiers will be able to move through customer invoices quicker, while maintaining accuracy. This time-savings translates to the customer experience.
Keep advisors on the go. Everybody loses during a game of phone tag, especially your employees. When a customer doesn't pick up, or if they call back when the advisor is away, it's a hassle and a time-waster for both parties to get back in communication. By allowing your advisors to send a text while on-the-go, the customer can respond at their convenience and the advisor can focus on getting cars in and out of the drive.
The more mobile you enable dealership personnel to be, the more efficient processes become. The domino effect doesn't stop with your employees. As your employees interact with customers, they too feel the efficiency (or lack thereof), which translates to their overall satisfaction.
Stay tuned for my next article about the effects of mobility on customers.
1 MobileSQUARED
Related Articles: