Is One Store Hurting Your Group's Reputation?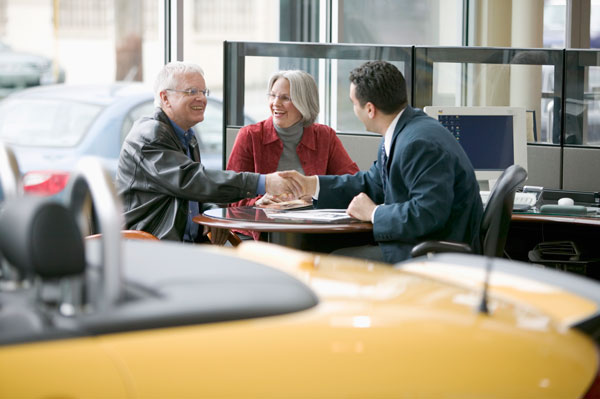 Article Highlights:
---
Poor customer service at one store can impact the rest of your group.
Invest in solutions that ensure the best customer service dealership-wide.
When you have multiple stores, you want to make sure customers have the same convenient experience at each location. Consistent processes need to take place in both sales and service so customers can complete their transaction as quickly and effortlessly as possible. If one store lags behind, it can drag down the reputation of your entire group.
It's easy to say you want stellar customer service at all your stores, but it's hard to implement without some help. After all, you can't be in multiple places at once – as much as you might like to be. However, there are software solutions that can help hold employees accountable to the processes that work best for your customers and your business.  So where are the most common areas processes fall apart?
Consistency in First Impressions
The way your dealership handles phone calls can make or break the customer's experience before they even walk through the door. Unfortunately, phone calls are frequently mishandled. All too often customers are left on an endlessly ringing line or sent to a voicemail box that is never checked. If their call does get through, they may be routed to the incorrect person or have to wait while an employee locates their information.  These discrepancies can lead to lost business in both sales and service as well as poor CSI ratings for your stores.
In-store appointments also affect first impressions. Are customers asked to repeat their information when they arrive at your store even though they made their appointment in advance? How long do they end up waiting to talk to a sales person or service advisor? Hold-ups like these may seem inconsequential, but they can add up and make customers feel like they're not a priority at your dealership group.
Consistency in Variable Operations
It's important that salespeople are giving each customer a thorough experience, but it's tough to enforce. Are they taking customers on test drives that show off the features of the vehicle, or are they just using the same route each time? Does your sales team offer accessories to every customer, or bypass that step on a busy day?
When your dealership overlooks opportunities to showcase the features of each vehicle, it can take excitement out of the car buying process for your customer. You're likely to lose out to competitors that do tailor the test drive to specific vehicles or interest customers in accessory options.
The stakes can be even higher when it comes to consistency in F&I. If each customer doesn't get the proper presentations and sign the right documents, you run into compliance issues and re-signs. However, it's hard to guarantee each customer is handled the same way. For instance:
Do your F&I managers rush through the presentation and document signing process when customers seem irritated?
Do they skip over certain presentations with experienced car buyers because they assume the customer is familiar with the information?
If a customer says they were never presented with necessary information do you have any way to determine the truth?
When signatures are missed or documents are incomplete, customers may have to drive back to your dealership to fix the errors. This inconvenience can prevent them from returning to your store in the future and can give your dealership group a reputation for carelessness.
Consistency in Fixed Operations
What's true in sales is also true in service – when customers feel lost or overlooked at one store, the reputation of your entire group is at risk. While customers may only visit your dealership to buy a new car once every several years, they could bring their car in for service multiple times a year – if they're satisfied with the processes at each of your stores.
When the service drive gets busy and employees are scrambling, customers may have to wait to speak with a service advisor. They also might not get a full presentation of menus and specials if the advisor wants to speed through the line more than they want to sell. What could have been a simple pick-up or drop-off becomes a tedious task for everyone involved.
Problems also occur during the write-up if steps are skipped for the sake of time. As an example, if there is no walkaround inspection and a vehicle is damaged or allegedly damaged on the drive, the service visit suddenly turns into a liability.
Another key area is the multipoint inspection. These need to be done on every vehicle that comes in the drive. If a customer knows their air filter was getting dirty last visit, but it isn't checked the next visit and the mention is overlooked, then the credibility of your service department is tarnished.
Finally, customers should always be presented every technician finding (yes, even the expensive repairs) to feel fully informed on the state of their vehicle. If they happen to be in a position where something malfunctions or another shop finds the repair you failed to present, you're probably going to see a negative review appear online.
The Bottom Line
The common denominator in these inconsistent experiences is manual processes. It's easy for employees to rekey customer information incorrectly or to purposely cut corners on a busy day. Automating procedures at your dealership can help eliminate these common errors.
For example, customers shouldn't have to struggle to reach your dealership. Make sure you have procedures in place so calls don't go unanswered and so customer information is automatically kept up-to-date. Customers feel at ease when employees can greet them by name and are knowledgeable about the reason for their visit.
On the front end, give managers a way to check in on the progress of each deal so you know your sales team is putting in equal time and energy for each customer. Additionally, automating your F&I process can keep customers engaged, speed up the process, and ensure all documents are completed accurately.
Finally, in your service department, customers should be able to easily check-in or check-out with information automatically translating to the DMS. Customers should also agree to walk-around findings, and be fully aware of the technician's findings. Then, if they stop at a different location, all of their information should be readily available at other rooftops to seamlessly continue building the relationship with that customer.
When inconsistencies are the status quo, customers suffer along with the reputation of your stores. How you treat customers at one store can have ripple effects that impact your other stores. Make sure those ripple effects are positive by investing in the right technology at each of your locations. Every time a customer has a good experience at one location, your brand reputation grows for all your stores.
Related Articles: