True Stories: A Better Buying Experience The Second Time Around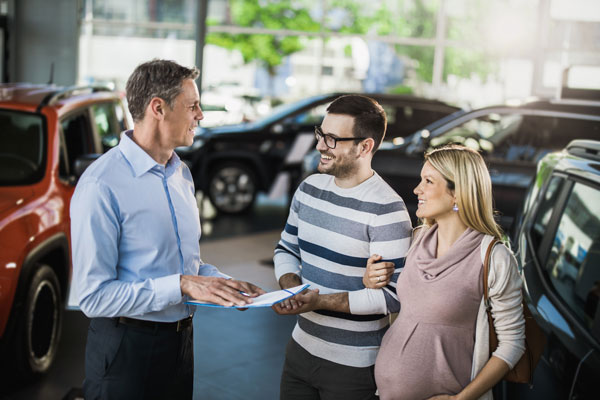 Article Highlights:
---
A seamless online to in-store buying experience won this customer over.
What type of experience are you delivering… dealership A or B?
Just over seven years ago, I had an unpleasant experience when purchasing my first vehicle. I felt pressured and tricked that first time. I left with a great car, but a not-so-great feeling in my gut about the dealership; and I didn't return after that… not for service and not for another purchase. I definitely learned from my mistakes.
Now I'm here to tell you about a much more enjoyable car buying experience, from an entirely different dealership.
The Research
I did my research this time. I reviewed everything from different makes and models, to trim levels, to dealerships locally and as far away as 150 km. I nailed down the exact trim level and package I wanted on my next vehicle so I knew exactly what I was after. There would be no pressuring me into something I wasn't prepared for or didn't need.
In addition to researching the vehicle and the dealerships, I also did a lot of research on my trade and what's it worth. I used Carvana, Kelley Blue Book, and multiple dealership trade-in calculators to get estimates. I wanted to be as prepared as possible when I walked into the dealership.
The Contact
Armed with as much information as possible, I started reaching out to dealerships. I submitted inquiries on specific vehicles online through email or chat. A few dealerships attempted to call me immediately after submitting my info, but I didn't pick up. I was at home with two toddlers; I did not want to talk on the phone. The dealerships that got my attention and engagement are the ones that emailed, chatted, or texted me back.
The Test Drive
I had my vehicle narrowed down to two different makes. Of course, I had to test drive both to figure out which one I truly liked. My experiences at these two dealerships were light years apart. I communicated with both dealerships via text to schedule the appointment. I was very up front and told them I'm only interested in test driving right now. I wouldn't be ready to buy for a month or two.
Dealership A: I walked into the dealership and was immediately greeted. After telling them I was there for a test drive appointment, I was directed to the salesperson I had been working with. She asked for my ID, gave me a waiver to sign, and took me to the vehicle waiting out front. She showed me a few key features and handed over the keys. When I got back from my test drive, we chatted about the vehicle some more. At this point, she identified my needs and showed me all the ins and outs that met those needs. She also highlighted some of the key benefits of buying from their dealership.
As we left, I told my husband I was pretty much sold just because of the salesperson. She knew exactly why I was there, we didn't start the entire process over, and she was friendly and engaging. She asked all the right questions in a non-invasive manner and then showed me the features that went with my needs.
But, I still wanted to test drive the other vehicle just to make sure I was making the right choice.
Dealership B: I walked into this dealership and was not immediately greeted. There was an energetic salesman helping another customer so I stood aside politely waiting. He eventually noticed me and asked what I needed help with. I told him my name and that I had an appointment for a test drive. He hurried off to find a salesperson to help me. This new salesperson took me to his desk and started asking me about what I was interested in. He pulled up the manufacturer website and started going through the different trim levels. Mind you, I had already been on this website and pretty much built exactly what I wanted. Eventually, we got back around to the test drive. He showed me a few key features and handed me the keys.
After my test drive, we went back to his desk to check available inventory. He had to leave to speak to a manager. While he was gone, the first salesperson… the one that greeted me initially… the one who I introduced myself to, explaining I had an appointment… realized I was his appointment! He started acting like it was my fault that I was now working with a different salesperson.
I was completely blown away, in a bad way, and decided right then I did not want to work with that dealership. Even though we communicated before the appointment, when I showed up and told them why I was there, I didn't get directed to the right person, we started over from the beginning, and then I was made to feel bad like I did something wrong.
The Purchase
At the time I test drove, Dealership A didn't have the exact trim level I wanted, but the salesperson stayed in contact with me via text for several weeks giving me updates on available inventory and price. Finally, the perfect vehicle was ready at their dealership. I didn't have a trade this time around, so my biggest concern when negotiating was my interest rate. I knew what I had before, I knew my credit score was in a far better position, and I knew interest rates were low.
When she first gave me the numbers, I asked if there was any way I could get the interest rate lowered. She immediately updated some information, made a few calls to her manager, and was able to get it down. This was a night and day difference from my last purchase experience.
We got through all the paperwork within about 1.5 hours, and then she introduced me to the service department. She also showed me a few apps I could download for my vehicle to get rewards points and schedule appointments through.
I was really excited about my new vehicle, and really wanted to leave with it; but since I didn't trade in my old car, I had to drive that one home. When I told her we would have to come back tomorrow to pick it up, she said they could have it delivered at no cost later that day. I was ecstatic!
Second Time's a Charm
Dealership A did everything right when it came to delivering an exceptional customer experience:
1) The salesperson communicated with me how I preferred to communicate: text.
2) The dealership provided a seamless online to in-store experience. I didn't have to start the process over once I finally arrived.
3) The salesperson was on top of her game, gave me exactly what I needed, and didn't try to play games with me. I really felt like I could trust her and like she was helping me find the best vehicle for my needs.
4) The salesperson stayed in contact with me after the test drive, but she didn't pressure me.
5) The final purchase process was easy and comfortable, and they went out of their way to deliver the vehicle when they didn't have to.
This time around, I'm glad I did my research and didn't settle for the same old dealership experience. What type of experience are you delivering for your customers?
Related Articles: